GoldOller Acquires 500 Unit Charter Court Apartments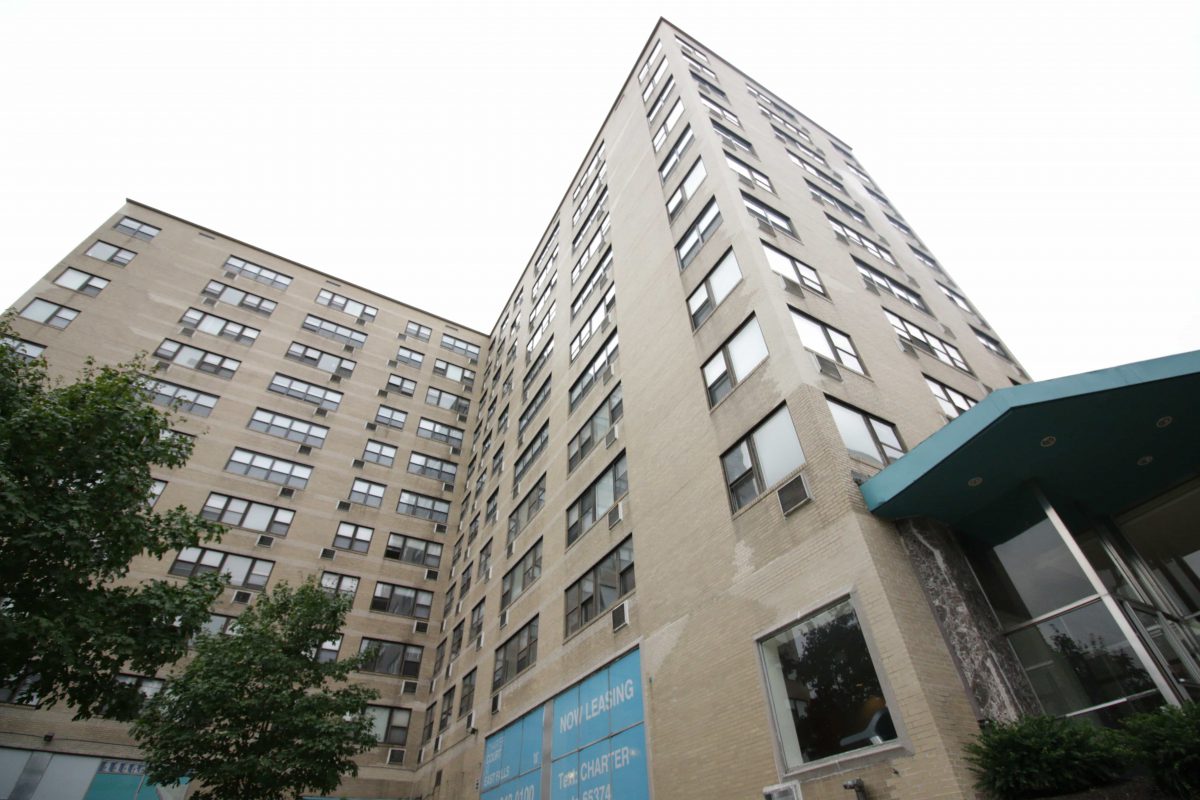 PHILADELPHIA, Oct. 3, 2016 /PRNewswire/ — GoldOller Real Estate Investments announced the acquisition of Charter Court Apartments (formerly School Lane House Apartments) for $56 Million.  Charter Court consists of 500 units within two interconnected eleven story towers at 5450 Wissahickon Ave. in the East Falls section of Philadelphia.
According to GoldOller's Chairman Richard Oller, GoldOller intends a major renovation of the property that will address virtually every aspect of the iconic 50's vintage building, restoring it to the grandeur of its past.
"This is our first apartment acquisition in the Philadelphia area in years and for me this is walk down memory lane.  As a kid who grew up in Philadelphia, I have great memories visiting relatives who lived there.  In the summer we would take the train to Queen Lane, walk a block and spend the day swimming at the apartment pool which was like a country club experience.  I loved the view of the City from the apartment and I always remember feeling important when I was greeted by door staff who always remembered my name, I intend to bring back that feeling for all residents," Oller said.
"We are very bullish on Charter Court and the historic East Falls section of Philadelphia.  Our plan is to implement renovations and service enhancements while maintaining a price advantage over our local competition in East Falls and at a significant discount to comparable Center City properties,"  said Jake Hollinger, GoldOller Partner and COO.  "From GoldOller's inception, we have consistently produced excellent returns for our investors by employing this value enhancement strategy and we are confident that our success will continue with Charter Court."
Charter Court residents will benefit from a complete restoration of the buildings and the grounds.  Renovations will include a new high efficiency HVAC system, new windows, upgraded hallways, a new 5,000 square foot fitness palace, an onsite spa and dry cleaner, bark park, and a cyber café.  Additionally, all of the apartments will be upgraded with brand new kitchens and bathrooms including granite countertops and high end fixtures.
"Residents will begin enjoying enhanced GoldOller lifestyle management services immediately," said Joseph Eisenstein, GoldOller's Charter Court project coordinator.  "We are taking great care to complete our improvements without disruption to existing residents, many of whom are long-term.  Key to this success is enhanced 24 hour professionalized staffing and sophisticated operational technology to notify residents of activities like free fitness classes and other GO branded lifestyle services."
Accordingly, to Kate Muckenhirn, GoldOller's Marketing and Brand Manager, Charter Court checks all the boxes.  "The location is perfect; a short walk to Philadelphia University, Drexel University Medical School, William Penn Charter Academy and Germantown Friends School, the Queen's Lane SEPTA rail station, and a ten-minute drive into the Center City. The current amenities are great but the new amenities will be the talk of the town. The unit mix includes studios, one, and two bedroom homes with affordable rents. Add to that our GoldOller 'Life On The Go' Services, and it's a home run."
About GoldOller
www.goldoller.com
Formed in 2008 by industry veterans Richard Oller and Jeffery Goldstein, GoldOller is an emerging leader in the multi-family housing industry and an innovative owner-operator of apartment communities throughout the United States. GoldOller owns and operates apartment communities in 17 States valued in excess of1.5 billion dollars, containing about 14,000 units.
Multifamily Management Services, a GoldOller affiliate, provides third party management to communities containing about 30,000 units, while other affiliates develop, own, and operate condominium, office, hotel, industrial, and retail assets. GoldOller has corporate offices in Philadelphia and New York City, as well as regional offices located in Kansas City, Atlanta, and Orlando.
View full article herehttp://www.prnewswire.com/news-releases/goldoller-acquires-500-unit-charter-court-apartments-300337764.html
---