GoldOller Revives a Philadelphia Masterpiece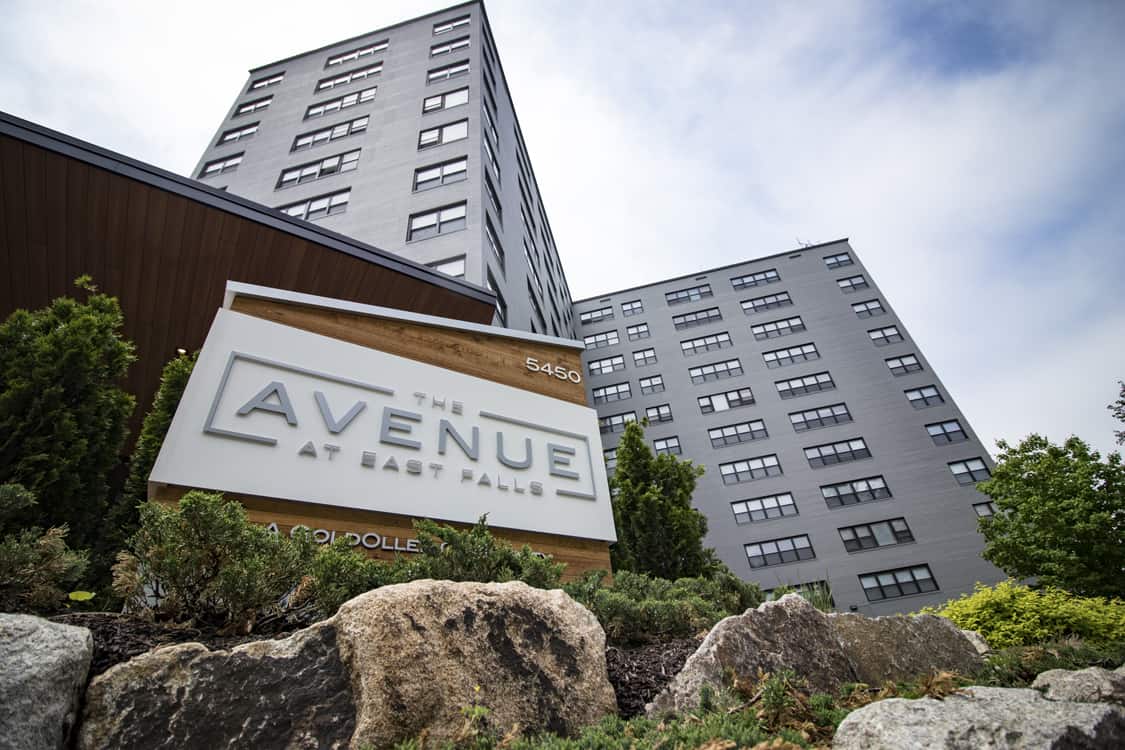 The Avenue at East Falls isn't just a new name for what was originally the School Lane House Apartments, it's the total rebirth of a Philadelphia treasure.
Perched on a hill overlooking Fairmount Park and the entire Philadelphia skyline, The Avenue is in the heart of the vibrant East Falls community. The Avenue is just steps from Jefferson University, Drexel University School of Medicine, William Penn Charter School and Germantown Friends School, and one short block to the Queen Lane rail station to access Center City in about 10 minutes.
GoldOller Real Estate Investments, one of the nation's largest apartment operators, purchased the 512 unit twin tower apartment community in 2016 and began the full modernization and complete redevelopment of the community.
"As a kid I remember my parents taking me to visit a relative at School Lane House Apartments. I remember the fabulous pool, the white-gloved staff, and the panoramic views of the City. It was one of those memories that lasted forever," says Richard Oller, Chairman of GoldOller. "I was determined to restore it to that grandeur and our fabulous development and operations team has exceeded all of my expectations. It is like giving new life to a masterpiece," said Oller.
The Avenue was redesigned by prominent Philadelphia Architect Bill Alesker and the GoldOller design team. GoldOller President and COO Jake Hollinger explains, "It is smart and cool and exudes a sophisticated urban vibe. Our goal was to bring back the grandeur, couple it with modern convenience and amenities, and make it a community that welcomes students, families, young professionals, and seniors who are young at heart and I think we hit our mark."
Amenities include a totally redesigned entrance and lobby, complete with an 18 cubic yard and 3,600 gallon water feature, a brand new state-of-the-art 6,000 square foot fitness center, and three free fitness classes per week; a new pool conveniently constructed as the centerpiece of a new lush central garden courtyard; a game room, as well as multiple study, conference and social rooms. Residents enjoy the convenience of secured parking, pet walking, on-site dry cleaning and laundry service, self-service package lockers, and an on-site deli café with indoor and outdoor dining and in-building room service.
"The Avenue is one of the most exciting projects I've worked on in years.  This project really has it all – we've created an exceptional experience for our residents," says Scott Stolbach, Community Manager.
Apartment homes are available in studio, one, and two bedrooms. All have been redesigned with sharp new kitchens, bathrooms, windows and brand new central heat and air. A concierge and maintenance service are on hand 24/7.
"Dale Construction took lead on the project management and we are incredibly pleased with the quality of their work," says Joe Eisenstein, GoldOller's Facility Director. "I've been involved in the renovations from day one. I'm really proud to have participated in this project and I'm excited for the residents that get to live in this community."
The building is full of outstanding design and surprises, including water features by Moon Landscaping, high tech informational screens, a custom reception desk by Ron Yeager of Yeager Woodworking, metal sculpture work by Dave Bran of Carbon Collective, and exquisite decorative paint and graphics by Aren King of Les Artists; all prominent Philadelphia artisans. "We made a point to use small local businesses where and when we were able and are incredibly happy with the talent represented in the final product," says Kate Muckenhirn, GoldOller's Director of Design and Brand Development.
The Avenue is minutes from Center City Philadelphia and close to the Schuylkill Expressway and Roosevelt Boulevard. It is just steps away from Wissahickon Valley Park, a lush 1,800-acre botanical wonderland. Another neighboring celebrated landmark is the childhood home of actress and royal Grace Kelly. Purchased by her son Prince Albert of Monaco, the house is a short one-mile drive from The Avenue, adding to the narrative of the neighborhood.
GoldOller Real Estate Investments was formed in 2008 by industry veterans Jeffrey Goldstein and Richard Oller.
The company has a civic responsibility to all the neighborhoods they are a part of. At East Falls that includes embracing the communities of Jefferson University and Drexel Medical School and investing in the improvement of Cloverly Park. GoldOller is an emerging leader in the multi-family housing industry and an innovative owner-operator of apartment communities throughout the United States. GoldOller owns and operates apartment buildings in 17 states, containing about 14,000 units, valued in excess of 1.5 billion dollars.
The Avenue at East Falls Apartments is located at 5450 Wissahickon Ave. Philadelphia, PA 19144.
For more information or a tour of the building, call the leasing office at (215) 642-8833 or visit our website https://www.gotheavenue.com/
---